RIGID Industries Returns to 2021 BFGoodrich Tires Mint 400 as Supporting Sponsor
Friday, November 19, 2021
Check out RIGID products at the Mint 400 Off-Road Festival!
RIGID Industries will continue its long-standing relationship with the BFGoodrich Tires Mint 400 and return as a supporting sponsor of the 2021 event, Mint 400 officials announced today. As part of the activation, RIGID's full line of American-made LED light bars and more will be on display once again at the Mint 400 Off-Road Festival in downtown Las Vegas.
"The name RIGID Industries is synonymous with top-quality, American-made lighting products for any application," said Mint 400 CEO Matt Martelli. "From competing at the highest level of desert racing to riding the trails, countless off-road enthusiasts put their trust in RIGID Industries' LED light bars and more to Own The Night. We're excited to continue our long-standing relationship with RIGID as part of this year's Mint 400, and look forward to welcoming them to this year's Off-Road Festival on Fremont Street!"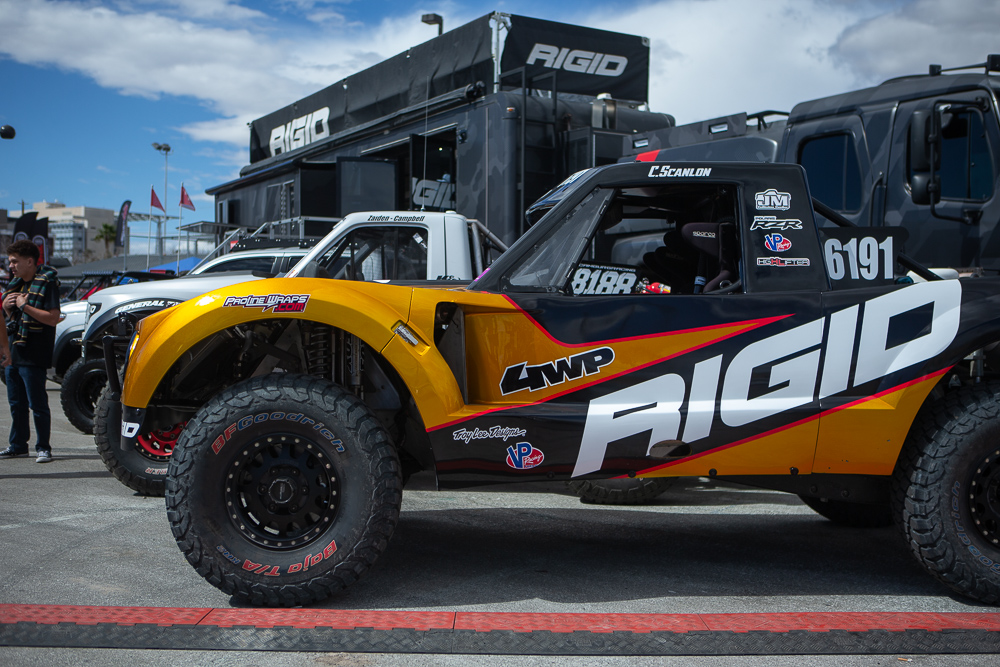 For well over a decade, RIGID Industries has produced industry-leading lighting kits and technology, including the world's most advanced Rear Facing Chase Light Bar. The Chase Bar is a rear facing LED light that adds safety and functionality to any UTV, rail, buggy, Jeep, or other off-road vehicle by combining running, brake, reverse, turn signal, and more into a single compact package. Pre-programmed features include strobe, scroll, flash, and all on and can be fully customized to any vehicle trigger.
Front runners in many of the sport's top classes, from Kyle Jergensen in Unlimited Truck to Jordan Brenthel and Travis Williams in Unlimited Truck Spec, will rely on RIGID Industries to light their way through "The Great American Off-Road Race," and each of them will expect the competition to see plenty of RIGID's Chase Bar behind them. Fans can explore the same kind of lighting technology that these racers trust on Thursday, December 2 at the Mint 400 Off-Road Festival on Fremont Street in downtown Las Vegas.
The Mint 400 has held the title of the toughest, most spectacular off-road race in North America since 1968 when it was first run. Initially, the race was a public relations event promoting the Mint Hotel's annual deer hunt. but what started out as a hotel promotion soon grew into a legitimate desert race. Since its 2008 revival, "The Great American Off-Road Race" has only gotten bigger and more prestigious, and deeper fields every year only make it tougher to win.
This year's BFGoodrich Tires Mint 400 will take place from December 1-5 in Las Vegas. More information on the event for racers and spectators is available at TheMint400.com, or follow the event on Facebook and Instagram. For more information on RIGID Industries, visit www.RIGIDindustries.com.